Splashes of Service in Waterbury
Splashes of Service in Waterbury
During our first week as AmeriCorps members at the Community Health Center, Inc. back in August, we were introduced to the concept of "AmeriCorps Week". We learned about the two groups who served the years before  us, and the incredible acts of service they completed within one week throughout Connecticut. I remember thinking the spring seemed so far away at that point and we still had plenty of duties to complete before even thinking about our week of service. As we hit the halfway mark of April, it is mind boggling to think we not only have been serving as HealthCorps members for almost eight months, we also just completed our AmeriCorps week and the end of our service term is heading rapidly towards us.
During the month of October, the AmeriCorps group was introduced to community outreach services in Waterbury, CT. CHC opened their 13th site on North Elm Street in November of 2011, and the AmeriCorps spent an ample amount of time within the community of Waterbury; we were able to see the diverse neighborhoods and local businesses while trying to spread the word about the new arrival of CHC'S health services becoming available to citizens of the city. When the time came to pick an area of the state we wanted to dedicate our week of service to, the answer was right in front of us. After months of planning and overcoming plenty of barriers, our group of thirteen members hosted one amazing effort titled "Splashes of Service Week in Waterbury".
Our catchy slogan has a lot of meaning built behind it that helps explain what we actually did throughout the week. Starting on Monday, April 9, and ending on Saturday, April 14, as a group we accomplished painting eleven elementary school blacktops, chaperoning a field-trip to a baseball game, cleaning up a YMCA Camp, and hosting a Community Meal for the people of Waterbury that included a DJ, fun activity stations, and information about healthy eating habits.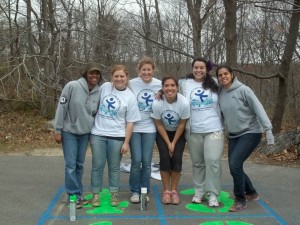 Sprucing up schools' playgrounds, which was the biggest component of our AmeriCorps Week, is the program that helped us come up with the idea to paint the school's playgrounds during our week of service.  The AmeriCorps member who coordinates Recess Rocks, Lisa Rozo, was the lead organizer for this project and she reflects on painting the blacktops of Waterbury Elementary Schools below: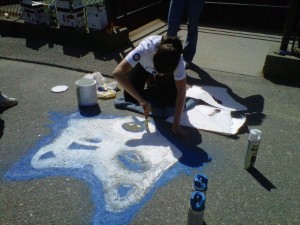 "After being involved with a project to paint playgrounds last year we thought it would be great to bring it to Waterbury for our week of service. The theme of our week focused on building healthier families through encouragement of physical activity and a great way to do that is to make recess more fun and active! We teamed up with 11 elementary schools in Waterbury and spent the week painting the school blacktops with educational images like a map of the U.S., and fun games like the activity circle that encourage the students to be more physically active during recess. At each school we also painted their school mascot to boost school pride and give them a sense of community.  The students were out of school during their spring break for the week but parents and children from the schools were invited to come help;  we had a lot of fun at Washington Elementary school where some students came and got to paint the U.S. map along with fun words like "zoom" around their blacktop. So far, we have had feedback from Principal Brown of Walsh Elementary School who saw the blacktop and said that it looked wonderful and he was so excited for the kids to come back from break and see it."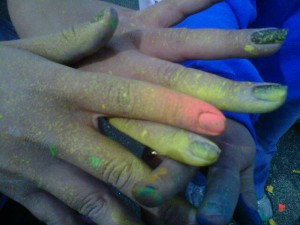 Over two hundred cans of spray paint and eleven black tops later, Waterbury Schools are now equipped with bright and colorful places to spend recess time. We had sixteen Principles agree to let us come into their Schools, and although we only completed eleven during our dedicated week of service, we will be returning to Waterbury over the course of the next few weekends to finish what has been started! We were also very lucky to have been interviewed by both Channel 3 and Channel 8 News stations about our week long projects.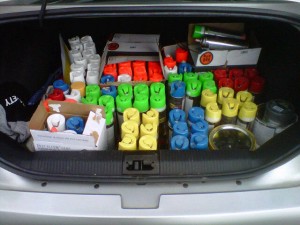 Along with painting schools throughout Monday, Tuesday, Wednesday, and Friday, our week also included chaperoning a trip with local Waterbury kids to a New Britain Rock Cats game hosted by the Police Activities league (PAL). PAL is a not for profit organization which promotes partnerships between youth, law enforcement, and the community through educational, athletic, and recreational programs designed to encourage team building and foster positive relationships. On Wednesday, five of us boarded a school bus and headed to the stadium with two officers who volunteered their time off to take the kids to a baseball game. About 35 students attended the trip, and upon arrival, the kids were all given a baseball glove with a ball and a tee shirt. Our group was escorted onto the field before the start of the game and one of the Waterbury students even got to throw the first pitch.  The kids were more than well behaved and it was an incredible experience to learn about the important role the Police Activities League plays within the Waterbury Community.
We took a break from Painting on Thursday and traveled to Camp Mataucha located in Watertown that is operated by The Greater Waterbury YMCA. From 9am-3pm, we spent our time raking and transporting leaves, painting and staining fences and buildings, and spreading mulch in preparation of the camps opening. The camp serves children ages 5-15 and it seemed like an awesome day camp to attend. We were definitely tired by the end of the day, but it was well worth the blisters and occasional hail storms we encountered while we were there to give the camp staff some helping hands with spring cleaning in anticipation for summer visitors.
Our week was brought to an end on Saturday, where we hosted a Community Meal on the Waterbury Green. The town Green, located right in the heart of downtown Waterbury, was the perfect place to bring our free, fun and family-friendly event. The weather was perfect and from 11:30am-2:30pm we attracted over two hundred people. While serving a meal with tons of great options thanks to some of our more kitchen savvy members, we also set up stations for people to embrace healthy living styles. Our most popular activity was definitely the Herb planting. We had plenty of cans and soil ready for children or adults to come decorate and plant their own herbs to take home. We had a table filled with bilingual recipe cards, CHC information, and plenty of frisbees and jump ropes which were a hit. Guests were also able to enjoy the musical stylings from our very own AmeriCorps DJ, Roberto Henry. Kids were able to pick up a Healthy activities Card and get a hole punched for each station they completed. Once someone participated in hopscotch, hula hooping, planting, basketball, and our obstacle course, they were allowed to receive a fun prize! Over the course of three hours, I think it was safe to say that people were having tons of fun and happy to have us in their community. We received an abundance of thank-you's for the meal and good times on the green but we were thankful for all the people who came and stayed to celebrate Splashes of Service with us!
There are so many people who helped us bring forth our ideas about AmeriCorps week and transformed them into a reality. We are more than grateful for the support from CHC along with the Community of Waterbury. We received donations from local establishments and a generous donation from a New Britain Hospital group. We definitely had setbacks, but all great endeavors require a little muscle work which we were reminded of a few times throughout the week. We have a ton of awesome photos that really show how terrific our week truly went, and they will be available very soon. Our goals for the week were to encourage physical activity and improve spirit of the schools. We also wanted to use our Community meal to promote healthier families through encouragement of outdoor activities and healthy eating habits. As a group, we overcame barriers and used our individual talents to host a phenomenal week long experience. Everyone contributed in many different ways and without the support of eachother, we would have not been so successful. As we reach the beginning of the end of our AmeriCorps term, we are proud to take what we have learned and accomplished with us to provide services for others during our last few months. We are ever so grateful for the opportunities that we have been given, and for the creative freedom that lets us try and think outside of the box when it comes to helping the underserved populations throughout CT. Below, are a few reflections from fellow AmeriCorps members about our week!
"Our Splashes of Service week in Waterbury was absolutely amazing. The elementary school playgrounds in Waterbury have probably never looked brighter! One fun memory I have is Walsh Elementary school. The neighborhood surrounding the school had many abandoned, boarded up, and burnt down houses. As we worked, some children playing on a little playground began watching us through the fence, asking us questions. As soon as we finished and had all had hopped into our cars, the kids burst out from behind the fence and began hopping on the hopscotch and reading the words like 'Zoom!' we had painted all around. Then the Community Meal was a great wrap-up to our week. The weather was beautiful and people were in cheerful moods as they grabbed a bite to eat on their way to work or as their children planted herbs. We heard many encouraging words about how delicious the food was, as well as some people sadly telling us that it was the only meal they would be eating that day. We also had individuals tell us that they had recently switched to CHC from area clinics. The families that came loved the activity stations. My favorite was planting herbs! The kids (and adults!) were excited to grow their herbs and use them in the recipes we provided. Overall, it was a wonderful week and I believe that all of our hard work helped to encourage healthier lifestyles in Waterbury." Tasha Germain
"It was a great opportunity to help promote healthy lifestyles in the Waterbury community by encouraging physical activity and showing families that eating healthy can be easy and DELICIOUS! Our bilingual, healthy recipe cards were extremely popular!" Corazon Irizarry