The Norwalk Nutrition Workshop
The Norwalk Nutrition Workshop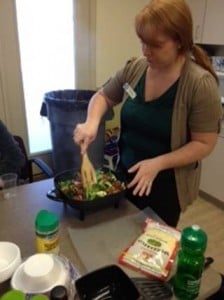 Good nutrition is an important part of staying healthy, so, during the month of March, fifteen patients attended a nutrition workshop at our Norwalk site.  Today was the final day.  Heather used a mock grocery tour to review the 5 week workshop. The patients were told to pretend Heather was going shopping with them, and knew nothing about eating healthy. They had to educate her as they walked through every aisle. For the food demo, Heather made veggies with brown rice for a total of $5.00 to feed 10 people.  How successful was the course?   Based on the comments, it appears to have been a great success.
"I found the nutrition course very informative and enjoyable. I learned a lot. I would hope it would be offered again. Heather did a wonderful job, Angelica and Brandon were very helpful." Mary Wright

"I am very grateful to have been a part of the course. I learn a lot about grocery shopping, eating healthy, how to monitor sugar and salt and more." Maria Mendez

"I learned about reading labels, portion control, how to eat healthy throughout the day." Luis Batista

"Heather, Angelica, and Brandon helped me to understand nutrition and the human body. I am very thankful that they gave some of their time to be with the group the class has helped me with my high blood pressure in one month. Thank you so much for the change and good luck." Jonattan Fermin

"I want to thank Angelica and Heather for their dedication. Showing us how to eat healthy. Thank you for those yummy recipes, nutrition information, and for having the patience to teach us about eating healthy." Elizabeth Sanchez

"I really loved the class because I learned things I never knew before, like how to read labels and purchase nutritious meals that don't cost a lot." Marisol Aparicio

"Thank you for teaching the classes and checking our weight and blood pressures. I hope to return to future classes." Maria Londono
If you want to find better ways to eat healthier, speak with your doctor to find out about nutrition workshops you could attend.