Mark Masselli Presented Paul Harris Fellow by Middletown Rotary Club
Mark Masselli Presented Paul Harris Fellow by Middletown Rotary Club
On Thursday Evening, the Middletown Rotary Club presented the Paul Harris Fellow aware to CHC CEO Mark Masselli.  Here are some details of the award as well as comments from Patti Anne Vassia, first woman Middletown Rotary Club member as she presented the award: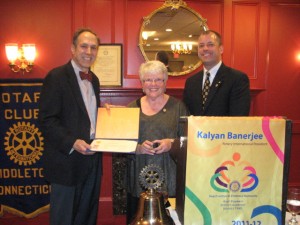 Mark Masselli, President and Founder of the Community Health Center, was recently presented a Paul Harris Fellow by the Middletown Rotary Club.
The Paul Harris Fellow is presented to community members and Rotarians who have made a significant contribution and difference in our community. In addition to the recognition, certificate and special pin, the Club gives $1,000 to The Rotary Foundation in the recipient's name. The mission of The Rotary Foundation is to enable Rotarians to advance world understanding, goodwill, and peace through the improvement of health, the support of education, and the alleviation of poverty.
"I can think of no greater visionary who has had more impact on our community or has done so much to assure that Health Care is a Right, Not a Privilege than this year's community Paul Harris Fellow, Mark Masselli", said Patti Anne Vassia, first woman Middletown Rotary Club member as she presented the Fellow. The Rotary Board, which chooses the Fellow, discussed Mark's leadership and impact on the area especially the new Community Health Center's 48,000 sq foot building arising in Middletown's North End and the spectacular Midnight on Main, Middletown's first annual first night held this year.
Vassia detailed some of Masselli's many contributions including the growth of CHC to serve over 130,000 patients statewide, his leadership and vision in Middletown 2000 and the Middletown Housing Authority and his tireless energy to change what is and make improvements that benefit the entire community.  
I have had the great experience of knowing Mark for over 40 years and know what a visionary and genius he truly is. Along with other hippies from Wesleyan and the community Mark started a dental program on College Street that soon evolved into what has become CHC. Today CHC is a world class medical home serving over 130,000 patients in over 200 service locations from Stamford to Groton, Old Saybrook to Enfield and west to Danbury and many cities in between with dental, primary care and behavioral health services with state of the art technology and caring human touch. CHC is recognized around the country and even other countries for its innovation.

Mark was the young upstart on the newly formed United Way's Research Committee in the mid 1970s. He was respected by the then community leaders and listened to…sometimes. He was always ahead of the curve. He pushed new ideas and helped all of us see the potential for doing more…being better than what we were.

He chaired the Middletown Housing Authority for 20 years and was the strong voice for upgrading the living conditions for those living in their housing. Take a look at Maplewood Terrace or drive by the fields where Long River Village once stood and you will see how much better housing conditions are here today than they were in the past.

He was the drive behind Middletown 2000 a group of leaders meeting to plan for the upcoming new century. He ended up chairing this group and brought to us a new vision and examples of how we could improve Middletown. All of his ideas haven't been developed…yet. But many of Mark's favored projects are now a part of Middletown's vitality. These include this marvelous Inn, Vinnie's Jump & Jive, The Louie Lopez Garden and the diversity of our restaurants. If you want to get things done, get Mark behind your idea…or give it to him and let him handle it.

There is so much more…but you should also know that he is a father of four with his wonderful and creative wife Jennifer Alexander, the founder of Kid City Museum. Together they are assuring that their children know the greater world and have taken them around the world to experience its diversity, complexity and to learn how great is to be in a community that is Middletown.

It is my pleasure to present this Paul Harris Fellow to you Mark…you are a most deserving precipitant.