Vinnie' Jump and Jive
Vinnie' Jump and Jive
Saturday, January 28th – Music and lights spill out onto the street, and the chalk sign invites everyone in. "Swing tonight!" it says. And so it begins.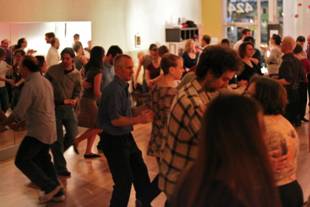 Vinnie's Jump and Jive, a thriving hub for Connecticut swing, is back in action. Our kick-off event last month was packed with dancers, young and old, beginners and experienced, lindy-hoppers and East-Coasters, from Southington, New Haven, Hartford, Bloomfield – you name it. With music by one of the best DJs around, and teaching by professional instructors, "Bringin' back the swing!" was a rocking success.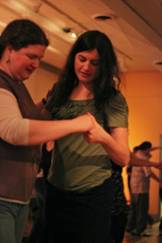 The social atmosphere was bright and warm. Old-timers expressed their joy at returning to Vinnie's "Vinnie's has meant a lot to me over the years" and new-timers were thrilled to join the scene "I feel so welcomed, all these friendly people have been asking me to dance!"
The Vinnie's staff is thankful to all the dancers and organizers who spread the word about the event – thank you Bruce, Connecticut Swing Dance Society, Hartford Underground, Yale Swing and Blues, and Weswing and blues!
Vinnie's may be best-known throughout CT as a swing-dance venue, but the studio is so much more than that. What's less common knowledge is that Vinnie's is actually operated by the Community Health Center as an important part of the CHC's work on wellness. In addition to swing, Vinnie's provides yoga and a variety of dance classes in the heart of Middletown  – creating opportunities to get healthy through dance and movement every day of the week.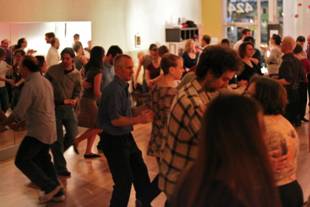 Stop by our weekly classes anytime to meet our fabulous instructors and try something new.  And believe it or not, it's already time for another dance – Midwinter Swing and Blues is this Friday, the 17th. Come see it for yourself!  Also, with Valentine's Day fast approaching, Vinnie's is offering gift certificates to all its classes – give the gift of dance! for more information visit www.vinniesjumpandjive.com, or call 860 347 6971 ex 3777