Give Kids a Smile Day 2012
Give Kids a Smile Day 2012
On Friday, February 3rd and Saturday February 4th, the Community Health Center Inc. held its Give Kids a Smile Day Event at our CHC dental sites. We are still tallying up the number of treatments and total number of kids seen, but as of now, over 150 kids were seen on Friday and Saturday and the total number is still growing!
Waiting rooms were decorated with balloons and kids received goodie bags full of fun dental supplies.  Some of the highlights included New London's patients getting a special visit by Minnie Mouse (http://www.wtnh.com/dpp/news/new_london_cty/free-teeth-cleaning-offered-to-kids) and the kindergarteners at Macdonough Elementary School in Middletown participating in a Dental Education, Recess Rocks extravaganza with the CHC tooth mascot who Rocked Recess with the students. (http://macdonoughschool.blogspot.com/2012/02/smile-day.html)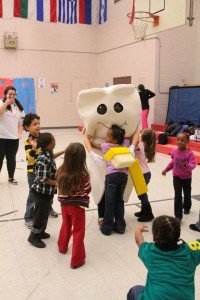 Most importantly, vital services were provided to kids with limited access to oral health care. Thank you to all the participating dentists, dental hygienists, dental assistants, and support staff at CHC and our community partners who worked so hard to assure that these kids maintain a healthy smile. We would like to especially acknowledge two of CHC's staff members who every year are able to organize incredibly successful events at their sites: Lynda Torres from Meriden and MaryBeth Cieri from Old Saybrook. Lynda Torres has been working hard on CHC's Give Kids a Smile Day Program for the past five years. Meriden's Saturday event and Old Saybrook's Friday event was an enormous success thanks to Lynda's and Marybeth's hard work and dedication to build healthier communities in Meriden and Old Saybrook. Both Lynda and Marybeth go above and beyond their job descriptions to assure that the uninsured and underinsured kids from these communities receive the dental services they need. Thank you for your hard work and dedication to give kids a smile
 CHC's GKAS programs are not over! On February 25th , Norwalk will hold its event for kids in Fairfield County- so stay tuned for the grand total number of kids we were able to see in all of our sites. We hope to finish counting by then!
 The programs on Friday and on Saturday would not have been possible without the collaboration of community dentists who so generously had donated their time to provide dentals services to kids. Dr Thal of New Britain, Dr Fletcher of New Britain, Dr Truscinksi of New Britain, Dr Edelson of Plainville, Dr Tosatti of Kensington, Dr. Dave and Dr. Sara from Hergott Dental Associates, Advanced Dentistry from Cheshire, Dr. Alice Yang from Wallingford, and Dr Himabindu Illindala and all of these offices participating dental office staff. We thank you for your hard work and dedication toward our communities.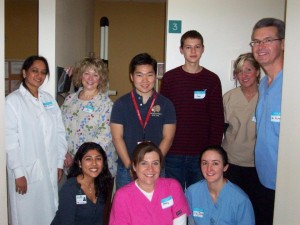 Written by AmeriCorps Members: Asya Tsarkova & Hope Brigham