"Dancing in Pink"
"Dancing in Pink"
This weekend the Kate Theatre in Old Saybrook hosted a reflective concert on breast cancer called, "Dancing in Pink." Lacey Byrne from Salix Productions put on the event. Lacey herself was one of the dancers in this beautiful performance.
You see, last week I was searching for outreach events to attend where I could represent  CHC's Early Detection Program for breast,cervical and colorectal cancer. I happened to stop for lunch at the It's Only Natural (ION) Restaurant in Middletown, CT for one of my favorite vegan smoothies and on the way out I stopped to use the bathroom. Using the women's room at ION,can be a highly exhilarating experience as there are so many words to be read and information to take in. I browsed the small table in the corner only to find a
bright pink post card with the following information, "Dancing in Pink, A Reflective Concert on Breast Cancer." So, I called someone at the theatre, who led me to someone else, who led me to Lacey Byrne.
Lacey and I spoke and I told her about the Early Detection Program and she said she would be happy to have me attend the event. AmeriCorps member Tasha Germain and I dressed ourselves in pink and headed off to the event. Lacey greeted us at the quaint and beautiful Kate Theatre. We set up our table with free goodies, educational information and our breast models. We shared a table with Dr. Sherri Bernier, who is a survivor of breast cancer and creator of the Secret Shawl. Dr. Bernier's shawls are hand-made using a variety
of fabrics and patterns. Each shawl is unique and individually handcrafted.
Within each shawl is a secret pouch and in this pouch you will find your very
own set of affirmation cards. A portion of each purchase goes to cancer
research. Please consider purchasing a shawl for yourself, a survivor or anyone
you know who is currently undergoing cancer treatment. http://designswithinspiration.vpweb.com/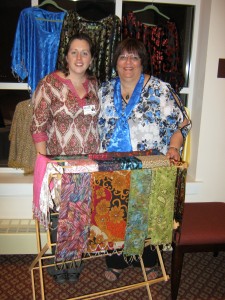 Aside from Dr. Bernier, Tasha and I had the opportunity to
mingle with many survivors of breast and colorectal cancer. It was incredibly
inspiring to hear these stories and to be able to share such an intimate and
personal experience with these survivors. I met Angela, who lost her
grandmother to breast cancer.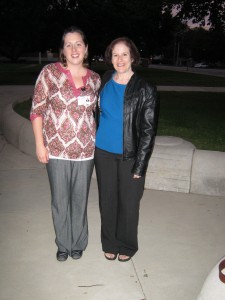 Tasha and I also met a women who shared her story about having lost her husband and son to colorectal cancer.
Dr. Nancy Cappello, survivor of stage 3 breast cancer and founder of Are you Dense, an advocacy group based out of Woodbury, CT, spoke before the performance about her mission and the  importance of informing the public about dense breast tissue and its significance for the early detection of breast cancer. For more information on dense breast tissue and early detection and to read Dr. Cappello's personal story, please visit her website: http://www.rudense.org/about/
So, the event was a hit and we all went home feeling honored to be a part of such a
touching experience. It was very special to be with a group of men and women,
who amongst their own suffering could still smile and move forward in good
spirit to share their bravery, stories and to spread the word about the importance of early detection for all types of cancer.