The Age of Hopes and Dreams
The Age of Hopes and Dreams
At 11:26 AM, EDT on July 8, 2011, the Space Shuttle Atlantis lifted off on the final voyage of the Space Shuttle Program.  For many, it signaled the end of the space age and so many dreams.  In true twenty-first century social media style, I was doing several things at the same time.  I was participating in a webinar about ways to improve access to healthcare.  I was reading the tweets of people following the launch, with many commenting about how our country has lost its ability to dream big.  I looked at the news headlines, "US unemployment rate rises to 9.2%, raising doubts about recovery", "Judge to head News of the World hacking inquiry", and "America Sees Its Obesity Rates and Raises Them".  It seems easy to lose hope and the sight of one's dreams.
But the disillusionment was short lived.  I had to get back to work, and next on the agenda was the luncheon honoring women who have recently completed our Living Smart, Living Fit program for pregnant women.  Many of these women have far more reasons to lack hopes and dreams than my friends on Twitter lamenting the end of the space shuttle program.  They were also models of the sort of hope that our country needs right now.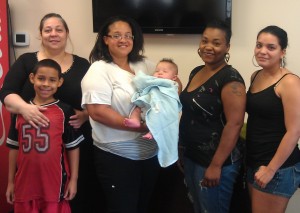 There was the woman who eventually made it to our country after giving birth to her first child in a refugee camp.  There was the woman who had been homeless at the beginning of her pregnancy, and now has a good job and a good place to live, as well as a beautiful baby.  There was the woman who managed to quit a two pack a day cigarette habit.
They all told stories about how the program had helped them with issues from losing weight and quitting smoking to managing to get their babies to breastfeed.  They also spoke about how the experience had gone beyond their immediate lives.  They brought their experiences to their families so the whole family could be healthier.
Although it might be missing from the news headlines, we remain a country that can dream big.  These women are reminders of how big dreams start.  They start in simple ways with small steps, and build, step upon step.
So, while many mourn the end of the Space Shuttle program and worry about our country's ability to dream big, I see an opportunity and a way forward.  Let's dream of a day when all women have access to programs like Living Smart, Living Fit and let's find ways to work together to help make this dream happen.