Amy D. Gagliardi is named to the Board of Directors of the National Healthy Mothers, Healthy Babies Coalition and attends her first board meeting
Amy D. Gagliardi is named to the Board of Directors of the National Healthy Mothers, Healthy Babies Coalition and attends her first board meeting
Note: One evening last week, I was talking with coworkers and Amy Gagliardi's name came up.  One person commented that they weren't exactly sure what Ms. Gagliardi does, and another commented that it was something really important to do with health care for expecting mothers.  Here is a post from Amy about her recent trip to Washington DC which may help people understand the valuable contribution she makes at CHC at to Maternal and Child Health everywhere.
Recently I traveled to Washington, D.C. to attend my first meeting as a board member of the National Healthy Mothers Healthy Babies Coalition.  After 30 years of providing leadership in Maternal and Child Health, Healthy Mothers Healthy Babies (HMHB) remains on the cutting edge with innovative programs such as the much touted Text4baby initiative.  During my orientation and meetings with the HMHB staff and board members, I happily learned that creativity and vision abound within this tight knit group who collectively offer a wide spectrum of interests, personalities and competencies.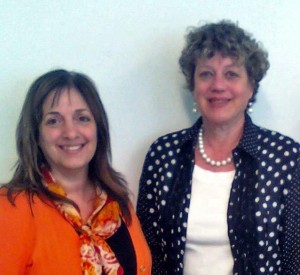 In addition to me, three others became new board members of HMHB at this meeting.  They are: Woodie Kessel MD, MPH, former assistant surgeon general, educator and internationally recognized expert in community pediatrics, Carole R. Klein, an attorney and senior counsel in the Intellectual Property Practice of Morgan, Lewis and Bockius, LLP and Janine H. Lewis, MPH, Executive Director of the Illinois Maternal and Child Health Coalition.  There is exuberance among both new and existing board members around sharing knowledge and areas of expertise.  The common ground uniting us is the value of helping to ensure that all women have healthy pregnancies and that all babies have a healthy start in life.
During our first meeting we discussed HMHB's 30th year anniversary and shared stories and remembrances of its founding and many successes throughout the years. I shared my experience of traveling to D.C. in the early 90's with my husband and children to attend a national HMHB conference.  I vividly recalled how this conference shaped my Maternal and Child Health (MCH) perspective and how being here again nearly 20 years later is like coming home full circle.
In 1981 HMHB was founded in response to the US Surgeon General's Conference on Infant Mortality. Six lead organizations identified a public health need and believed that enhanced communication across multiple disciplines could reduce health disparity and reduce infant mortality.  It was heart warming to hear stories and additional bits and pieces to the story of HMHB's founding and activities by board members and staff.
Of particular interest was Dr Kessel's historical narrative about the steps leading to the founding of HMHB. As an advisor on public health, health policy, and child and family health to the White House, Cabinet Secretaries, Surgeons General, Health and Human Services officials spanning 8 administrations, he was central not only to the inception of HMHB but to the Health and Human Services (HHS) Black and Minority Health Task Force, the HHS Infant Health Initiative and Healthy Start. With candor and wit we received a bird's eye view of the inception of MCH policy.   
Our formal Board meeting was held in the Hager Sharp Building. Garry Curtis, president and CEO of Hagar Sharp graciously donated space for us to meet. I had the opportunity to meet with Mr. Curtis and several of the Hagar Sharp staff and this brief encounter gave me a brand new perspective on the services I and my colleagues deliver at CHC. One staff in particular was taken by the quality and diversity of services, including a variety of screenings coupled with case management and care coordination, available to uninsured and underinsured pregnant women. Having recently delivered a baby, she commented that she wished she had these services available to her during her pregnancy. But the comment that most touched me was made by another Hager Sharp staff who likened the work being done for pregnant women at CHC to humanitarian work. She expressed that people who do this kind of work have a calling and that their work is more than a job. I explained to her that my colleagues in all areas of service at CHC are a special breed and thanked her for her insights and complements.
I come back to Connecticut with a broadened perspective and appreciation for the work I and others do locally, nationally and globally. We all contribute to completing the larger picture of maternal and child health.  Fostering healthy mothers and healthy babies is a commitment of a life time and I am humbled to be a part of this process.