Training the Next Generation of Family Nurse Practitioners
Training the Next Generation of Family Nurse Practitioners
Note: This is a guest post from Kerry Bamrick:
Hi. I'm the program coordinator for America's First Family Nurse Practitioner Residency Program at Community Health Center, Inc.
In 2007, the Community Health Center, headquartered in Middletown, CT launched the first-in-the nation formal Nurse Practitioner Residency Training Program to support the transition from new NP to primary care provider.
Our goal is national replication of CHC's model of community-based residency training for family nurse practitioners.
Since 2007, there has been significant national interest from community health centers across the country interested in initiating a nurse practitioner residency training program after our model.  They include: Alaska, California, Florida, Georgia, Hawaii, Louisiana, Massachusetts, Maine, Nebraska, New Hampshire, New York, Ohio, Oregon, Pennsylvania, Texas and Washington.
In September 2009, the 2nd NP residency training program was established in Worcester, MA at the Family Health Center of Worcester under the leadership of Lana Sargent, who is an FNP and Director of the residency program.
Yesterday, (May 19th, 2011) I had the pleasure of visiting Puentes de Salud, a community health center in South Philadelphia that provides high quality primary care to South Philadelphia's Latino population.  Led by an interdisciplinary team of two teaching physicians and an NP educator, they believe that training the future health care professionals in a community setting is a core component of Puente's mission.  The purpose of my visit was to assist in the planning and implementation staging of developing an NP residency training program at Puentes. The residency program will be designed similar to CHC's model of NP residency training and will be operational by September 1, 2011. It was a wonderful visit and productive meeting.
Puentes de Salud, will become the third formal post-graduate residency training program available to new family nurse practitioners. I applaud Puentes de Salud for their commitment to developing an NP residency training program. I thank Puente's co-founders, Steve Larson, MD and Matt Obrien, MD, MSc, and Martin Camacho MSN, ACNP-BC for meeting with me yesterday.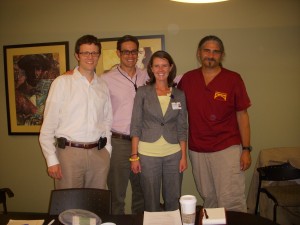 Kerry Bamrick