Viewing CHC Through the Lens of a Diabetic Retinopathy Camera
Viewing CHC Through the Lens of a Diabetic Retinopathy Camera
There is an old saying that if you've seen one community health center, you've seen one community health center.  It reflects the great diversity of health centers across the country, but perhaps does not do justice to our sites.  One the one hand, we work very hard to take what works best at one site and replicate it to all our sites.  On the other hand, there is so much more to Community Health Center, Inc. than you will see from the waiting room.
This came home to me Tuesday afternoon as I attended a meeting with several people from CHC as well as Dr. Jorge Cuadros from EyePACS and Dr. John Huang from the Yale School of Medicine. 
The topic was diabetic retinopathy screening, and while I would love to start off by talking about all the cool things at the meeting, it is most important to start off at the real center of CHC, the patient.
Like many community health centers, many of our patients have diabetes.  They struggle to get their diabetes under control, and too few of them ever get scanned for retinopathy.  Undetected and untreated diabetic retinopathy can lead to blindness.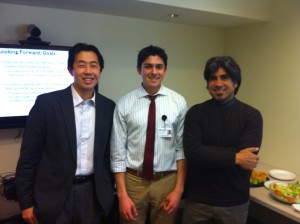 Daniel St. Hilaire, AmeriCorps Member and Diabetic Retinopathy Program Manager gave the first presentation about CHC's Telemedicine-based Diabetic Retinopathy Screening Program.  This illustrates an important part of community health centers that too often gets overlooked, AmeriCorps members.
Founded in 1995 by the National Association of Community Health Centers, Community HealthCorps is the largest health-focused, national AmeriCorps program that promotes health care for America's underserved, while developing tomorrow's health care workforce
Like many community health centers around the country, CHC benefits greatly from the work of AmeriCorps members, and Dan is a great example of the value such members bring to health centers.  Dan spoke about research being done on the rates and predictors of diabetic retinopathy.  Research is an important part of CHC that many are not aware of.  If Dan's presentation is any indication of future success, he has a great career ahead of him, which illustrates another important aspect of CHC, training the next generation of health care workers.
The second speaker was Dr. Jorge Cuadros from EyePACS.  This furthered the illustration of CHC's leadership in research, illuminating quality and training the next generation.  In 2009, Dr. Cuadros participated in the panel, "Virtually There:  Virtual Evaluation by Specialists in a Primary Care Setting" at the Weitzman Center for Innovations' 2009 symposium.  The Weitzman Center has brought many great speakers to CHC and established many important collaborations.  The work that Dr. Cuadros and Dr. Huang have done with CHC has been an important improvement to patient care.
At this point, the discussion started getting especially interesting as Dr Cuadros and Dr. Huang started talking about advances in diabetic retinopathy screening.    They discussed methods of training people to screen the retinal images as well as developments in computer based pattern recognition.  They discussed advances in digital camera technology and other research being done around the country.  This is the area that I found most interesting and reflected how CHC is always looking towards the future and new advances in medicine, technology and patient care.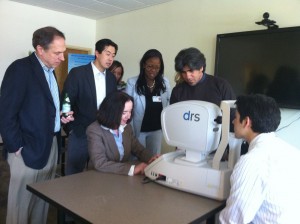 At the end of the presentations, we all went into the staff commons where we looked at a new diabetic retinopathy camera.  There were discussions about how the camera encrypted the retinal photographs, connected to the internet, and transmitted the images to specialists for analysis.
In Dan's presentation, he spoke about the cost benefits of telemedicine based digital retinal exam compared with conventional fundus examination.  CHC strives to be as efficient as possible, and there appears to be important cost savings by using telemedicine based digital retinal exams.  One question everyone grappled with was, how do we increase the number of patients that can access this care.  Currently, we have two cameras that get moved from site to site.  Could we better train medical assistants to increase the use of these cameras?  Could we come up with better schedules?  Could we afford another camera?
These sort of issues also illustrate a side of CHC that most people don't regularly see, people working together to make sure that we make the best use of our facilities, funding, and staff.  Yet all of this comes back to the focus of CHC, the patient.  Our patients don't need to see everything that happens behind the scene to provide them world class health care.  They just need to know that they are the center of our activities and see the results of our efforts when they visit.  Diabetic retinopathy screening is an important part of making sure that they will be able to continue seeing.